Are You Experiencing A Dental Emergency?
Our dentists and team are proud to perform emergency dental care in San Ramon and Dansville, California. Call Luxor Dental at 925-922-4633 as soon as possible if you need emergency dental care or after-hours care. Dr. Michel Raad or Dr. Zeba Siddiq will meet with you quickly to help you get relief without a long wait.
Why Might I Need Emergency Dental Care?
---
A dental emergency can result from any number of accidents: tripping on the sidewalk, a nasty hit during a pick-up game of basketball, having a door opened into your mouth or even biting into a particularly chewy piece of taffy. The kind of damage these sorts of accidents can result in are also varied, but the most common include: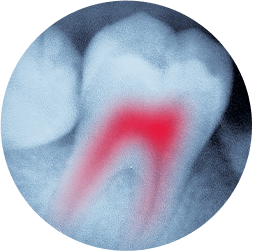 Cracks, breaks, chips or fractures of a tooth or multiple teeth
Knocked-out tooth or teeth
Lost dental restorations, like a filling, crown or bridge
Mild to severe dental pain
Soft tissue damage (cheeks, lips, gums, etc.)
Pain, Swelling or Infection Due to Wisdom Teeth
What Should I Do If I Experience a Dental Emergency?
---
Whatever causes your dental emergency, the first thing you should do is contact our team, who will make an appointment for you to meet with our emergency dentists as soon as possible and will give you advice to protect your smile from further damage until your appointment. Dental emergencies can be frightening, but we are experienced and calm in administering emergency dental care and will do everything we can to restore your oral health.
Knocked Out Tooth
Gently rinse your tooth to remove debris. Do not scrub your tooth. If possible, place the tooth back in the socket and hold it there until you get to our office. If this is not possible, place the tooth in a container of water or milk and bring it to the office.
Cut Tongue or Lip
Clean the cut thoroughly and hold a cold compress against it. If you cannot get the bleeding to stop, visit the emergency room.
Severe Toothache
Rinse your mouth and floss around the tooth to dislodge and remove anything that is stuck around the tooth. If pain persists, call our office for an appointment.
Pain in the Head or Neck
Damage to the mouth, however, often comes with trauma to other parts of your head and neck. If you have experienced a blow to the head that has resulted in severe pain to your head or neck, we recommend visiting the emergency room before scheduling your emergency dental care appointment to address damage to your smile. Your overall health and well-being are our highest priorities, and we will always prioritize your safety first.
Pain, Swelling or Infection Due to Wisdom Teeth
Use ice packs to reduce swelling. Painkillers such as ibuprofen and Tylenol can be taken to relieve pain, and ibuprofen can help reduce inflammation.
What if My Child Needs Emergency Care?
---
Children are notorious for getting into scrapes, and we understand that you can't always predict when your child may need emergency care. If this is the case, we encourage you to contact our office as soon as possible so we can find the soonest possible time to meet you and your child. A dental emergency in a child may take many forms, including:
Chipped or broken teeth
Cracked or fractured teeth
Partially or fully knocked out teeth
A lost dental filling or other dental restoration
A severe, lasting toothache
Damage to your child's tongue, cheeks, lips or gums
Please contact our team immediately if your child is struggling with any of the above conditions. If we cannot meet with your child immediately, our team will provide close instructions for taking care of your child's smile and minimizing further damage until we are able to meet with your and your child in person. If your child has other severe injuries, including head or neck trauma, please prioritize those injuries and visit an emergency doctor before bringing your child into our office.
Contact Our Emergency Dentists
---
Of course, we hope that these sorts of emergencies do not happen at all, but our emergency dentists and team are happy to be here for you and do everything we can to keep you safe and stress-free. To learn more about our emergency dental care before you have an emergency, contact us today.
We serve not only San Ramon, Danville, and Pleasanton, California, but offer emergency dental care to the surrounding areas that include:
Luxor Dental is headed by our expert dentists, Dr. Michel Raad and Dr. Zeba Siddiq. Learn more about our dentists here.
We accept most PPO insurance providers, cash, credit and we also work with CareCredit. Click here for more info.
We welcome patients from the surrounding cities of Alamo, Walnut Creek, Castro Valley, Dublin, and many more. Give us a call today no matter the town!